User list of Com-SWIRLS
National Meteorological and Hydrological Services (NMHS) of the following countries/regions are exploring Com-SWIRLS:
Country/Region
Organization
Argentina
Servicio Meteorológico Nacional
Australia
Bureau of Meteorology
Austria
Zentralanstalt fur Meteorologie und Geodynamik
Bangladesh
Bangladesh Meteorological Department
Brazil
Instituto Nacional de Meteorologia
China
China Meteorological Administration
Colombia
Institute of Hydrology, Meteorology and Environmental Studies
Comoros
Agence Nationale de l'Aviation Civile et de la Météorologie
Costa Rica
Instituto Meteorológico Nacional
Curaçao
Meteorological Department Curaçao
Egypt
The Egypt Meteorological Authority
Fiji
Fiji Meteorological Service
Georgia
The National Environment Agency
India
Indian Meteorological Department
Indonesia
Meteorological, Climatological and Geophysical Agency
Ireland
The Irish Meteorological Service
Jordan
Jordan Meteorological Department
Lao PDR
Department of Meteorology and Hydrology
Madagascar
Meteo Madagascar
Malaysia
Malaysian Meteorological Department
Maldives
Maldives Meteorological Service
Macao, China
Meteorological and Geophysical Bureau
Mauritius
Mauritius Meteorological Services
Myanmar
Department of Meteorological and Hydrology
New Zealand
Meteorological Service of New Zealand Limited
Norway
Norwegian Meteorological Institute
Peru
Peruvian National Weather and Hydrological Service
Philippines
Philippine Atmospheric, Geophysical and Astronomical Services
Administration
Samoa
Ministry of Natural Resources and Environment
Saudi Arabia
Presidency of Meteorology and Environment
Singapore
Meteorological Service Singapore
South Africa
South Africa Weather Services
South Korea
Korea Meteorological Administration
Spain
Agencia Estatal de Meteorología
Sri Lanka
Department of Meteorology of Sri Lanka
Switzerland
Federal Office of Meteorology and Climatology MeteoSwiss
Tajikistan
Agency for hydrometeorology
Thailand
Thai Meteorological Department
Turkey
Turkish State Meteorological Service
Uganda
Uganda National Meteorological Authority
U.S.A.
National Oceanic and Atmospheric Administration
Vietnam
Vietnam Meteorological and Hydrological Administration
China (Zhuhai)
Zhuhai Meteorological Bureau, China shares more images of its nowcasting operation. Screenshot and animation as shown on their system are shown below: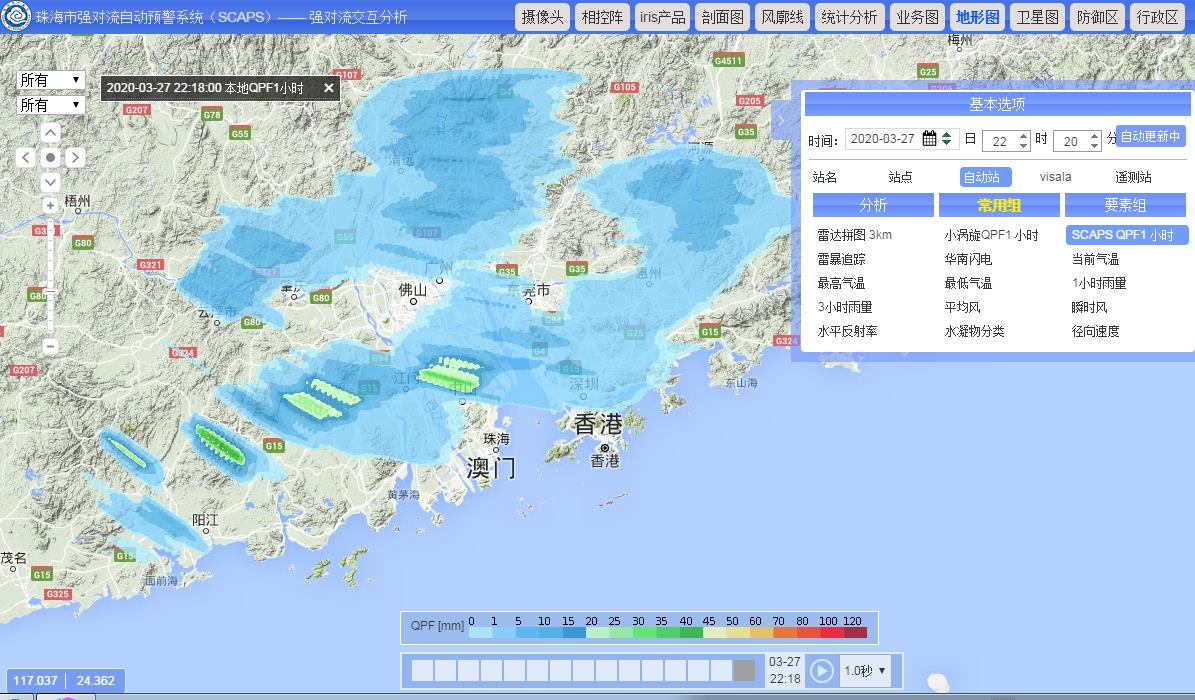 1 hour quantitative precipitation forecast (QPF) at 22:18 on 27 Mar 2020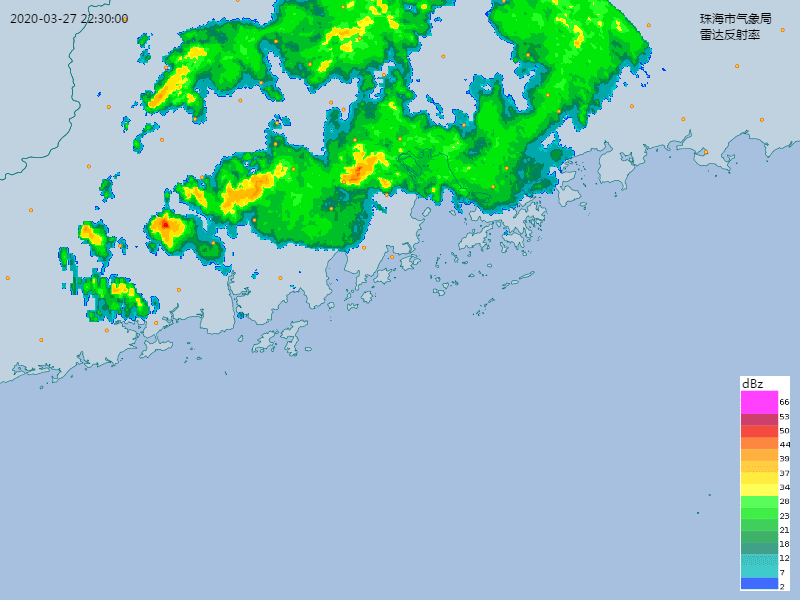 3-hour forecast radar reflectivity based on actual radar reflectivity at 22:30 on 27 Mar 2020
Zhuhai Meteorological Bureau, China is currently operating SWIRLS for its nowcasting operation. Some screenshots of SWIRLS nowcast as shown on their systems are shown below: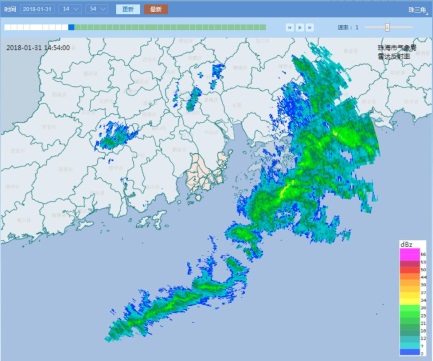 Actual radar reflectivity at 14:54 on 31 Jan 2018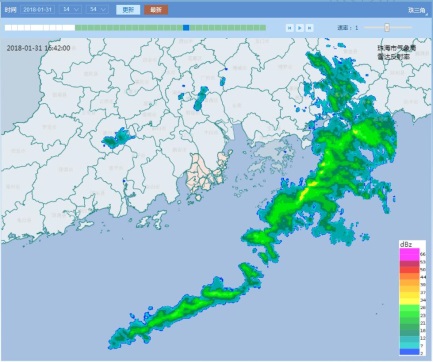 Forecast radar reflectivity at 16:42 based on actual radar reflectivity at 14:54 on 31 Jan 2018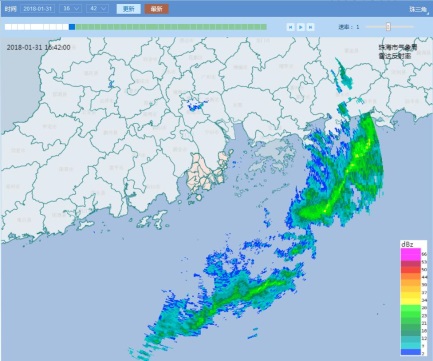 Actual radar reflectivity at 16:42 on 31 Jan 2018
China (Macao)
HKO currently provides SWIRLS nowcast products and data to Macao Meteorological and Geophysical Bureau to support its operational use.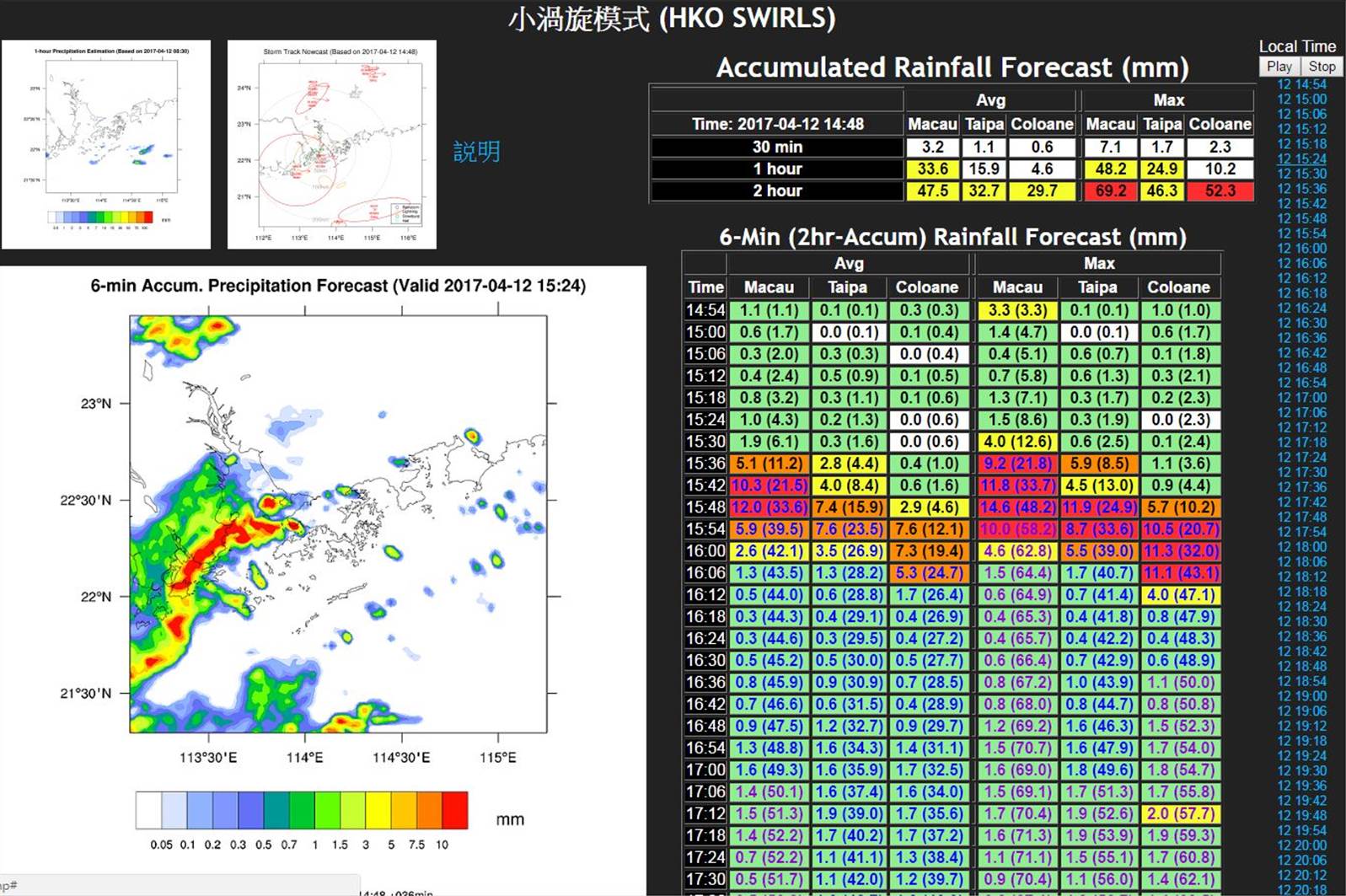 Use of SWIRLS in Macao Meteorological and Geophysical Bureau
India
HKO deployed the SWIRLS nowcasting system to support the very-short range rainfall forecast service in Delhi for the XIX Commonwealth Games in 2010. SWIRLS operated for a while after the Games. Recently, India Meteorological Department has been co-operating with HKO on the installation and configuration of Com-SWIRLS for intended operational use with weather radars at Delhi, Chennai and Paradeep.
Malaysia
Malaysia Meteorological Department (MMD) and HKO collaborated on the installation and configuration of SWIRLS in Malaysia. The Malaysian installation of SWIRLS system makes use of radar reflectivity data at a constant height of 2 KM (CAPPI), and also a WRF model that runs 4 times a day and outputs reflectivity at 1 km resolution. SWIRLS in the MMD has been verified through the November 5 rainstorm event over the Malay Peninsular associated with the passage of Tropical Depression 29W. Verification has been performed through two objective skill scores namely the Probability of Detection (POD) and False Alarm Rate (FAR) described in
http://www.cawcr.gov.au/projects/verification/
and the results are illustrated in Figure 1.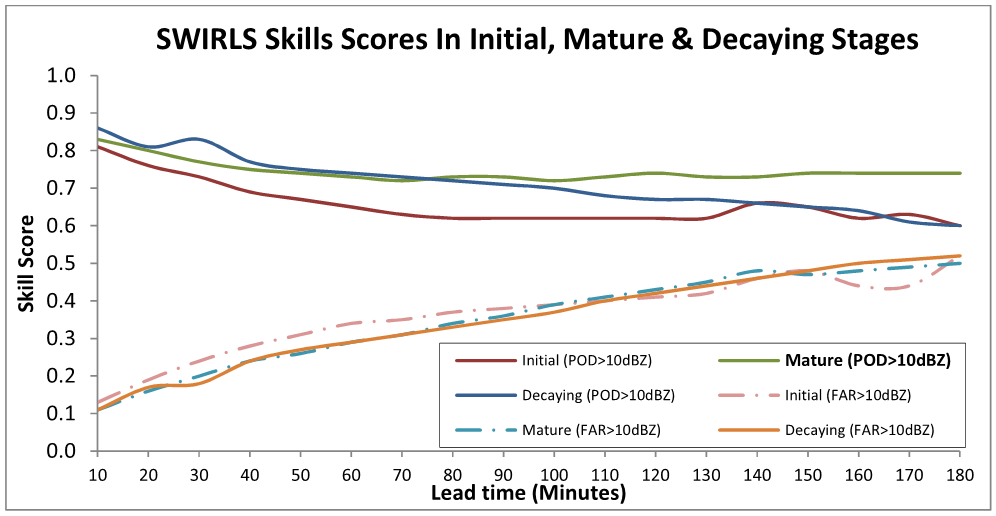 Figure 1. The skill score of SWIRLS in the Initial, Mature and Decaying Stages of the Nov 5 2017 Rainstorm
The high WRF resolution and CAPPI data resolution has been exploited through the usage of Google Maps overlay as illustrated in Figure 2.

Figure 2. Nationwide (top), Peninsular (bottom,left), Penang state (bottom,middle), and Georgetown City (bottom, right) with Google Maps
Real-time rainfall nowcast products are available from
MMD's website
. MMD also provides public nowcast service. Rainfall nowcast are available through their smart phone app myCuaca (
iOS
,
Android
)
South Africa
The South African Weather Service (SAWS) has installed and verified the community version of SWIRLS (Com-SWIRLS). The successful implementation of com-SWIRLS plays an important role within the WMO AvRDP project, as the project aims at improving nowcasting techniques for aviation applications and OR Tambo International airport (ORTIA) in Johannesburg, South Africa, was selected as a participating airport.